What does healing and wellness mean to you?
The Southern Chiefs' Organization (SCO) is inviting youth from SCO Nations ages 15 to 30 to take part in a contest to promote a path to healing and wellness for our young people.
Our Mobile Crisis Response Team is holding a contest for youth to share your thoughts on what healing and wellness means to you.
Does your mental wellness involve your culture, your language, or art? Do you find healing through your sport or your community?
SCO will use your art and video responses to promote well-being to our Nations!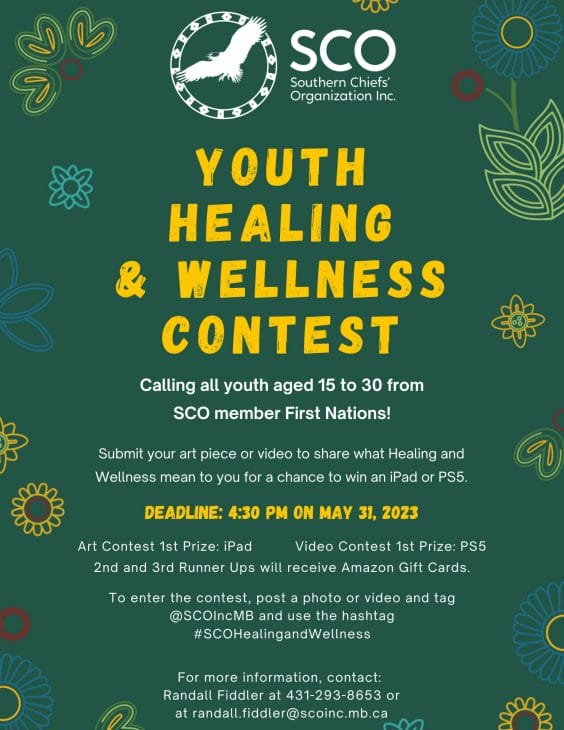 Contest details:
There are two categories for this contest:
Art
Videos
You can enter each category once.
Art pieces can be original drawings, paintings, sculptures, or designs using other media such as hide or beading.
Videos should be no longer than 3 minutes long.
Our contest is not sponsored by any social media entity.
Things to consider:
A panel of judges will review entries for creativity, knowledge, insight, originality, and artistic flair.
We will also be looking for cultural, land-based, and educational content.
How to enter the contest:
To enter, post your art piece or video on social media, along with 50 to 150 words telling us about your submission.
Include your name, age, and Nation.
Tag us in your entry on Facebook, Instagram or Twitter and use the hashtag #SCOHealingandWellness
Facebook: @SCOIncMB
Instagram: @scoincmb
Twitter: @SCOIncMB
If you do not use social media, you can email your submission to us: media@scoinc.mb.ca
If your file is too large to send by email, you can send it to us via DropBox to media@scoinc.mb.ca
Be sure to enter the contest by 4:30 pm on Wednesday, May 31, 2023.
Prizes:
Art category:
1st place: iPad
2nd place: Amazon gift card
3rd place: Amazon gift card
Video category:
1st place: PlayStation 5
2nd place: Amazon gift card
3rd place: Amazon gift card
If you are selected as a winner, SCO will ask you to fill out a video/photo release form for yourself or the people in the media you submit to claim your prize.
For more information, contact:
Randall Fiddler
Phone: 431-293-8653
Email: randall.fiddler@scoinc.mb.ca