Southern Chiefs' Organization Inc. has secured a Non-Insured Health Benefits (NIHB) Navigator for community members who are having difficulty accessing non-insured health benefits. The objective of the NIHB Navigator is to provide advocacy and support for SCO First Nation members, and make the NIHB program more user-friendly.
The NIHB Navigator is here to help:
Provide support and advocacy for community workers in assisting their clients accessing NIHB
Advocate with the federal government & health professionals on behalf of First Nations to resolve NIHB issues
Support leadership in the work of advocating for policy change within NIHB
Work to strengthen relationships with health providers, provincial & federal partners
Improve awareness of the NIHB program & provide information to clients and service providers on the eligible benefit areas and how to address denials and appeals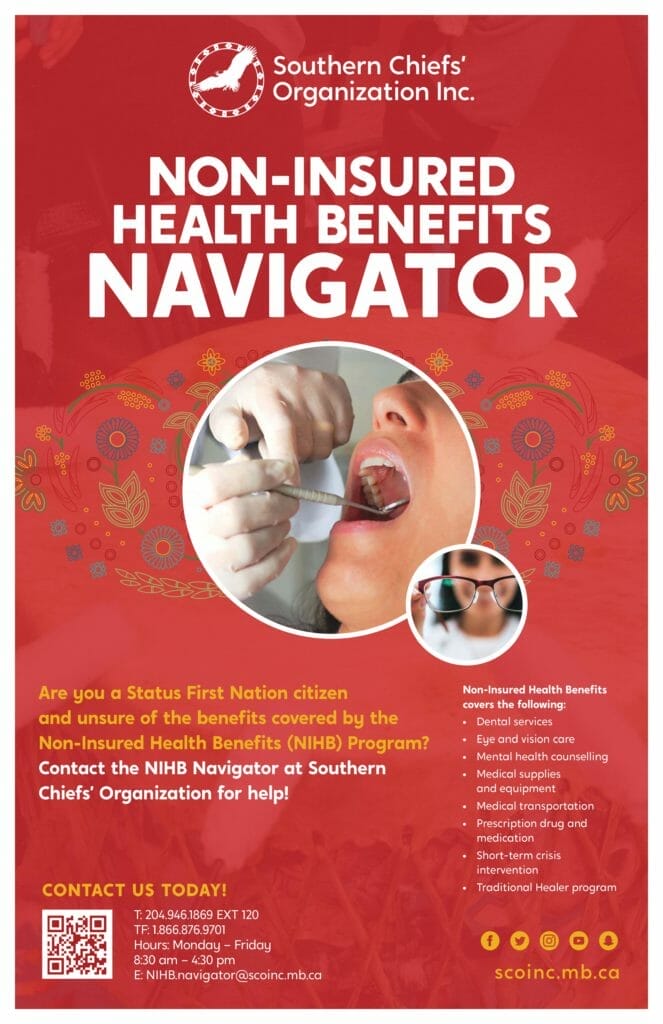 NIHB FAQ
What is covered under NIHB?
The Non-Insured Health Benefits (NIHB) program of Indigenous Services Canada provides clients (registered First Nations and recognized Inuit) with coverage for a range of health benefits, including prescription drugs and over-the-counter medications, dental and vision care, and medical supplies and equipment.
I just had a baby and want to know how they can access NIHB.
Children are now able to use the identification number of their eligible parents until they are 24 months of age.
My status card expired, can I still access my NIHB?
Due to the COVID-19 pandemic, service providers should accept status cards or Temporary Confirmation of Registration Documents (TCRDs) with identification, even if the renewal or expiry date has passed.
Southern Chiefs' Organization is now making it easier to renew or replace your Status Card! Our trained Pathfinders can walk you through the status card renewal or replacement process and can assist you with the forms and photographs required.
For more information, please go to: https://scoinc.mb.ca/status-cards/ or contact us at:
Telephone 1-204-946-1869
Toll Free 1-866-876-9701
Email: statuscard@scoinc.mb.ca
Am I able to view my past claims?
You can now access your claims, approvals and denials through the NEW Express Scripts website. To register you will need your Status Card.
How do I apply for a Status Card for my child?
To apply for a Status Card for your child you must fill out the Secure Certificate of Indian Status (PDF) form. You must also provide documentation stating you are the guardian of the child/dependent, photos of the child/dependent that meet the photo requirements, and photocopies of the front and back of your valid identification. Each photocopy needs to be signed by a guarantor if applying through mail. Visit How to apply for a status card for more information.
What if I have private insurance that covers 80% of my dental costs will NIHB cover the other 20%?
Yes, NIHB would cover the other 20% in this case, as long as it is an eligible benefit and you have not exceeded the amounts available for the billing year.
Should I cancel my private insurance?
It is recommended to keep private insurance as it covers most items not covered by NIHB. For example, services such as physiotherapy, chiropractor and massage therapies are not benefits covered by the NIHB program
How can I access mental health services?
You are able to access 20 sessions per year through an eligible provider. You can call the provider directly through the list provided below or feel free to call our Navigator and they can assist on getting you set up with counselling services.
If you require more sessions with a mental health provider then the 22 hours you receive yearly, you can contact the NIHB mental health line – toll free number to request more at 1-800-665-8507. Please reach out to our NIHB Navigator with any questions as well.
Do dentists direct bill to NIHB?
Unfortunately not all providers can direct bill to NIHB.
The following resources include lists of dentists that direct bill.
I live off reserve and travel to an urban centre for medical treatment, do I qualify for reimbursement or direct billed benefits like accomodations?
Clients residing off-reserve can contact the Non-Insured Health Benefits toll-free line 1-877-983-0911. Travel for scheduled appointments must be prior approved. When the client contacts the office, the analyst would confirm with the client exactly what could be authorized directly by NIHB or what would be eligible for reimbursement. When eligible, the office can authorize travel, accommodations, meals and in-city transportation in the same manner as a client that resides on-reserve. A minimum of two business days advance notice is normally required.
There are a couple of exceptions where an off-reserve client may be assisted through a community or Tribal Council under contribution agreement. Additional information is below:
Clients who are part of West Region Tribal Health Services (Ebb and Flow, Gambler, Keeseekoowenin, O-Chi-Chak-Ko-Sipi, Pine Creek, Rolling River, and Skownan First Nations) and reside off-reserve in the WRTHS service area, contact WRTHS for assistance with medical transportation.
Opaskwayak Cree Nation (OCN) band members that reside off-reserve in Manitoba, contact their band for assistance with medical transportation.
Clients residing off-reserve in northern Manitoba (north of 53rd parallel) can contact the provincial Northern Patient Transportation Program (NPTP) for assistance with medical transportation travel and once the travel is approved by NPTP the client would contact NIHB to assist with medical transportation accommodations, meals and in-city transportation.
I received a bill for using an ambulance, is this something that can be covered through NIHB?
Yes! Call the phone number listed on your ambulance bill or 204-986-3001 and state you are Status Indian. They will need the information from your bill and your Status Card number to cover the costs.
Please note, if your ambulance bill goes unpaid it can go to collections. Once your bill goes to collections, NIHB can no longer cover the costs.
Resources