Indian Residential Schools Help Line
An Indian Residential Schools Help Line 1-866-925-4419 is available 24 hours a day for anyone experiencing pain or distress as a result of their residential school experience.
The Indian residential school system represents one of the darkest moments in our shared history. A network of boarding schools set up by the Canadian government and administered by Christian schools, the Indian residential school system sought to assimilate First Nation children into the dominant settler culture by removing them from their own families, communities, and culture.
September was referred to as 'the crying month' by many, as it was the month that children were taken from their families and communities. It is estimated that at least 150,000 First Nation children were forcibly removed from their families and sent to residential schools, starting in the late 1800s and lasting up until 1996. In Manitoba, there were 14 residential schools operating from 1889 until 1975: Assiniboia (Winnipeg); Birtle; Brandon; Churchill Vocational Centre; Cross Lake; Dauphin (McKay); Elkhorn (Washakada); Fort Alexander (Pine Falls); Guy Hill (Clearwater, The Pas, formerly Sturgeon Landing, SK); Norway House United Church; Notre Dame Hostel (Norway House Roman Catholic, Jack River Hostel, replaced Jack River Annex at Cross Lake); Pine Creek (Camperville); Portage La Prairie; and Sandy Bay (Marius).
Students faced harsh discipline and physical, emotional and sexual abuse at the schools. Thousands did not make it home, dying of disease, starvation and abuse, or after trying to escape to make the long journey back to their families.
"Anytime there's a public announcement to do with residential schools, it opens up a lot of wounds that have been trying to heal. But at the same time, it's very important for the rest of the country to know the truth about the historical traumas and pain that Indigenous people have undergone." – Martina Fisher, IRS Survivor, Bloodvein First Nation.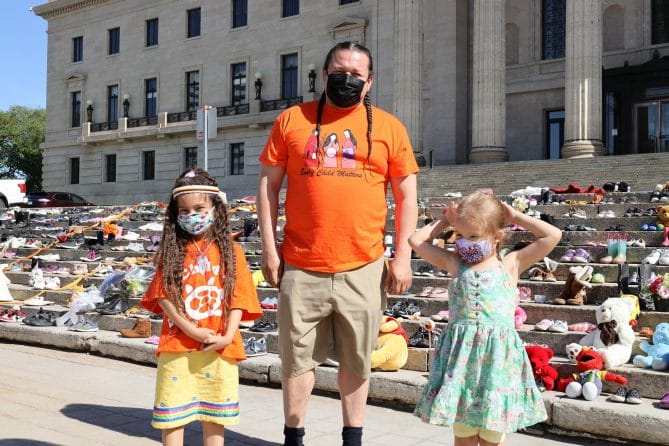 Truth and Reconciliation Commission of Canada
In 2009, the Truth and Reconciliation Commission of Canada began a multi-year process to listen to Survivors, communities, and others affected by the Indian Residential School system. They collected statements, documents, and other materials about experiences with the IRS system, which now form the heart of the National Centre for Truth and Reconciliation (NCTR), housed at the University of Manitoba.
The NCTR has resources on Orange Shirt Day, its significance and they have an online shop where you can purchase the "Calls to Action" booklet, which is a pocket-sized booklet containing all of the Truth and Reconciliation Commission's 94 Calls to Action.
Every Child Matters: Education Through Reconciliation
Canada's History and the National Centre for Truth and Reconciliation are pleased to share the digital edition of the publication Every Child Matters: Reconciliation Through Education and corresponding educational materials. These are designed to support teachers and students in their learning journey. The activities are intended to encourage student inquiry and investigation, while also supporting action-based learning. Each lesson is based on one of the seven teachings, reminding all of us that love, truth, wisdom, humility, courage, respect, and honesty truly matter.
You can explore their learning activities or download a PDF of the entire Educator's Guide.
Orange Shirt Day – #EveryChildMatters
Every year on September 30th, we come together in the spirit of reconciliation to honour residential school Survivors and the children who did not make it home. Orange Shirt Day was created to commemorate the residential school experience, to witness and honour the healing journey of the survivors and their families, and to remember the children who died.
The symbol of the orange shirt was inspired by IRS Survivor Phyllis Webstad. She was sent to residential school in BC when she was just six years old. On her first day of school, she proudly wore a bright orange shirt that she had chosen herself. But when she arrived, her shirt was taken from her, never to be returned. Now, every September 30 we honour Phyllis and all Survivors by wearing an orange shirt.
Orange Shirt Day provides us the opportunity to raise awareness and have honest and meaningful discussions about the intergenerational effects of the Indian residential school system.
Supports for Survivors
Individuals, families, and communities are still working to overcome the immense and traumatic effects of the Indian residential schools, including the intergenerational impact.
There are supports available for IRS Survivors and their families.
IRS Resolution Health Support Program
The Indian Residential School Resolution Health Support Program (IRS RHSP) was created as a result of the hard fought Indian Residential Schools Settlement Agreement. Its purpose is to provide former students and their families with cultural, emotional, and mental health counselling services in response to the traumas they experienced in residential schools.
In the first seven years of the program (2011-2018), federal government statistics show that almost 900,000 Survivors and families reached out for cultural and emotional support 5.8 million times. In addition, more than 65,000 Survivors and families participated in almost 500,000 counselling sessions across Canada.
For more information on the IRS RHSP, read the Assembly of First Nations' IRS Resolution Health Support Program Continuation Report (PDF).
Healing & Wellness Centres
There are six healing centres in southern Manitoba that offer support and services for IRS Survivors and their families: