Southern Chiefs' Organization recognizes First Nation Veterans from southern Manitoba for their valiant bravery, sacrifice, and achievements. To honour them, SCO has created a Wall of Honour, featuring Veterans from our 34 Anishinaabe and Dakota First Nations. We thank these courageous and hard-working individuals for their service.
Lest We Forget.
Have a name/photo you would like to submit? Email it to media@scoinc.mb.ca!
Norman Thomas Beauchamp of Long Plain First Nation was a much-loved father and grandfather to many children and grandchildren. He fought bravely and with courage in World War II and the Korean War.
Donald R. Catcheway from Skownan First Nation was born in 1934 and served as a Private in the Canadian Armed Forces from 1955 to 1958. His service took him to Calgary, AB, Germany and Victoria, BC. Donald Catcheway was Chief of Skownan First Nation (formerly Waterhen Band) for one term in 1969-71 and is a signatory to "Wahbung: Our Tomorrows". He then served as a Band Councillor for several years after. Donald is husband to Mary-Bert Catcheway (nee Chartrand).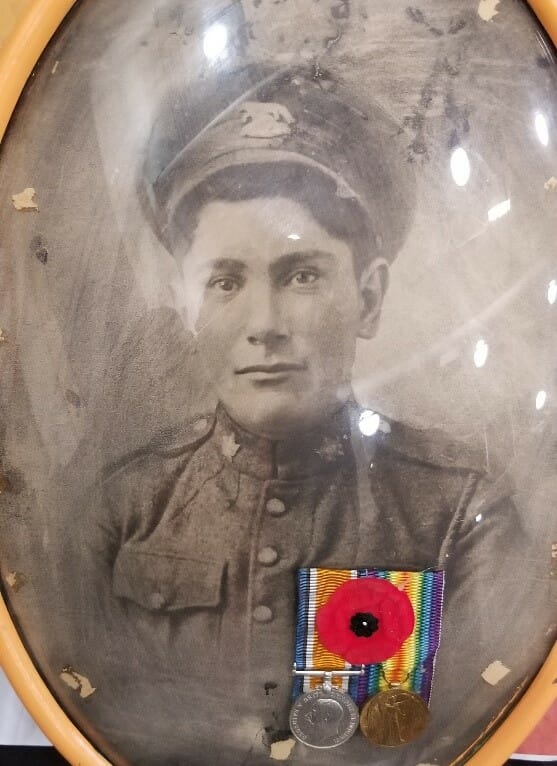 Alfred Chartrand from Skownan First Nation and born in 1885 was a Sapper with the Canadian Engineers Unit in the Canadian Army. Alfred fought bravely with much courage in WWI, died on May 31, 1918, and is buried in Pas de Calais, France. He was the son of Joseph and Caroline Chartrand and husband of Mary Elizabeth Chartrand. Before enlisting he was a fisherman providing for his family and community.
Mervin Clarke of Hollow Water First Nation joined the Canadian Armed Forces in 1970 and served on peace-keeping missions in Cyprus with the Princess Patricia's Canadian Light Infantry. He would be stationed in Germany and across Canada before retiring in 1993.
Mervin continues to serve Indigenous communities by working for the Federal Government with Indigneous Services Canada, bringing his total years of service to over 50 years!
A proud father, papa, and brother, Mervin loves to hunt and golf in his spare time.
Herbert Daniels from Long Plain First Nation was enlisted with the 2nd Battalion Princess Patricia's Canadian Light Infantry's (2PPCLI) Airborne Unit and stationed in Korea in 1953. His battalion won a Presidential Unit Citation for its performance in a battle at Kapyong.
His wife Gladys Meeches was proud to share that Herbert was also awarded the Purple Heart during his service with the Canadian Army. Herbert made his journey home to the Spirit world in 1979 and we are grateful for his brave service and sacrifice.
Lionel Daniels, originally a citizen of Peguis First Nation currently Little Black River First Nation, joined basic training in CFRS Cornwallis, Nova Scotia September 27, 1990 and then attended CFB Shilo for artillery training. After graduating, he was assigned to 1RCHA Shilo, Manitoba then in 1992 was deployed on a 6-month United Nations tour to Cyprus followed by another six month tour to Bosnia in 1994. Lionel was honourably discharged September 27, 1996.
James W. Eagle, or Sit Alone Bear, was born 1934 in Tootinaowaziibeeng First Nation. He served for 25 years in the Canadian Armed Forces from 1953-1978, including three peacekeeping tours with NATO in Cyprus and Germany, and he received several medals.
A respected Elder, Mr. Eagle has spent years working predominately for Indigenous organizations and has been active in rights and justice related to Indigenous issues. He was involved with the National Aboriginal Veterans and was an instrumental figure in getting the Aboriginal War Memorial completed in Ottawa's Confederation Park on June 21, 2001.
James has been happily married for 64 years and resides in Ottawa, Ontario.
Felix Ambrose Fontaine was born in Sagkeeng First Nation and enlisted in June 1942. After training, he traveled to England then to North Africa and Italy, where he fought alongside British forces in September 1943.
Felix was wounded in action by an explosion and partially lost his hearing. After hospitalization he returned to the frontline where he remained until the war's end. Felix won several medals: The Eastern Star, Italy Star, Canadian Volunteer Service Medal, 1939-1945 War Medal, and The King George Vl Medal.
Felix returned to Sagkeeng to take a lead role in changing the education system and was elected to Council. Felix shared many stories and teachings throughout his life with his home community about the sacrifices made by Veterans and the importance of Remembrance Day.
Leon Xavier Fontaine was born October 31, 1931 in Sagkeeng First Nation and attended the Fort Alexander residential school from 1939 to 1947. At 19, he enlisted and served in the Korean War, where he would be injured in action.
On honorable release from the Canadian Armed Forces, Leon completed training and apprenticeship as a plumber and pipefitter.
In his later years, Leon took a lead role in lobbying for the rights of First Nation Veterans who did not receive the same rights and benefits as other Veterans. He served as Vice-President of the Manitoba Aboriginal Veterans Association and as the Manitoba First Nation Representative in the annual Remembrance Day Services in Ottawa for 12 years.
Leon's efforts and bravery helped people from all corners of the Earth.
Sergeant Donald Vernon Houle (CD1) grew up in Sandy Bay First Nation and served in the Canadian Armed Forces from 1971-1996. Awarded with several medals for his valour, Donald Houle toured the Middle East then was stationed around the world and across Canada. He is a member of the Canadian Aboriginal Veterans as well as the Kainai Headdress Society.
Donald now lives in Kainai First Nation, in what is now southern Alberta, on Blood Reserve 148 with his wife of 47 years, where he has worked as a cattle rancher since retiring from the military.
William George Mann (1930-1995) was born in Sagkeeng First Nation and was a direct descendent of Kakekipenace, who was a signatory to Treaty 1.
Mann served in Korea and the Far East, was twice wounded, and went missing in action during his service. As a result, he received the Oak Leaf for bravery, the Korea medal, UN Medal, the Volunteer Medal, and even the Coronation Medal when he was present in London, England as part of the Canadian contingent for the Coronation of Queen Elizabeth II in 1953.
A proud Anishinaabe Ogichidaa, Mann co-founded and was the first president of the Manitoba Aboriginal Veteran's Association, as well as a member of the National Executive.
Five friends from the St. Peters Peguis Reserve enlisted together in 1915, in Selkirk MB to fight in World War I, including Oswald McCorrister (front left), his brother William McCorrister (centre back), and Charles Stewart (Back Left). Oswald and William were in the 108th battalion.
Oswald is buried in France and William died a month after returning home, from a war wound. Charles returned home safely and worked as a Red River Ship Captain until a fatal accident in 1931.
There were almost 100 veterans from the St. Peters Peguis Reserve who served with honour and bravery in World Wars I and II as well as the Korean War.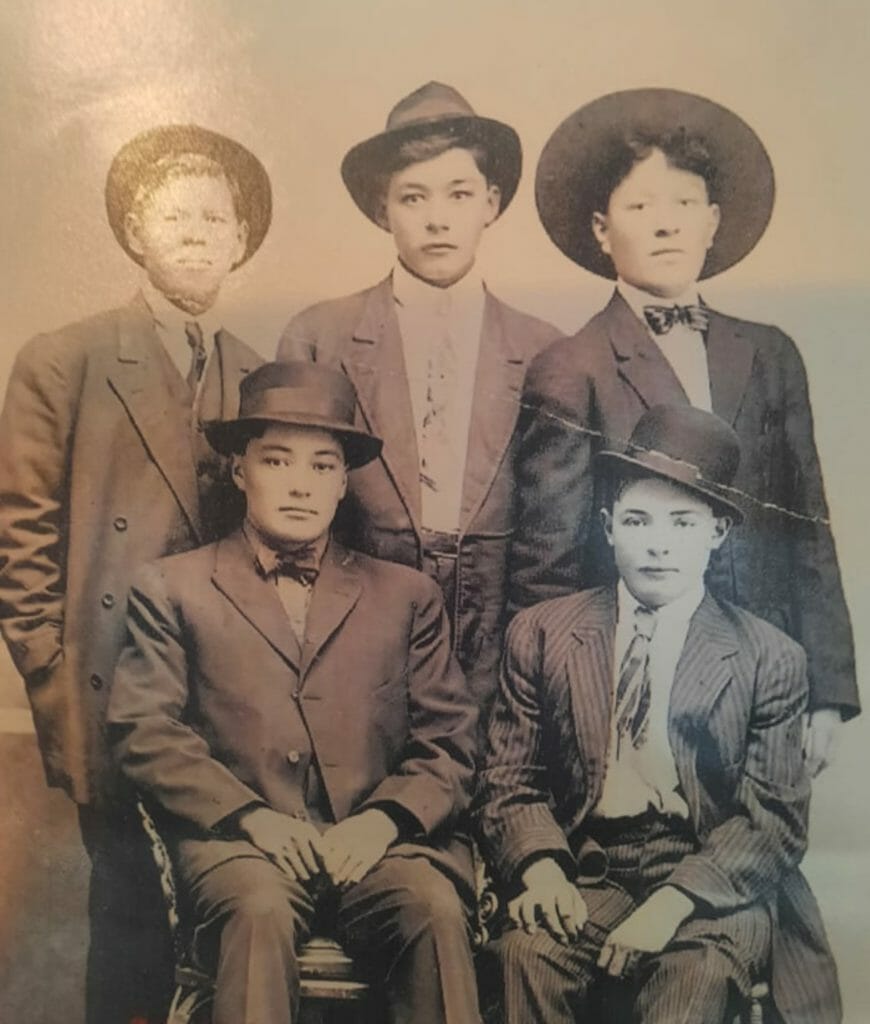 Private Arthur Meeches, from Long Plain First Nation, attended Brandon Indian Residential School and later graduated from Red River College in Winnipeg, Manitoba. Arthur went on to enlist in the military and he served in Korea from 1951 to 1952 with the 1st Battalion Princess Patricia Canadian Light Infantry's Air Borne Unit and was honourably discharged as a Private in 1954.
Chief George Myran, from Long Plain First Nation, served in the Canadian military during World War II. George was a band councillor for 8 years and later became Chief of Long Plain. In his later years, George became a representative on behalf of Long Plain veterans and traveled to France to commemorate First Nation veterans who served over seas during times of war.
Michael Pashe was born in 1925 at the Old Sioux Village. Pashe attended Residential School, then served in the Canadian Army from 1944-46. He received the France and Germany Star Medal and the Canadian Volunteer Service Medal and Clasp for his service.
Michael worked construction for many years and also worked at the Winnipeg Airport. Michael was later elected as Chief of Dakota Tipi First Nation in the 1970s and was a powerful voice for his people.
A true role model for the Dakota Nations of Manitoba, Michael found happiness in his family.
Born in Long Plain First Nation, Rufus Prince (1920-1989) served the Canadian Army in Italy during World War II. On returning from the war, Rufus was elected as Chief of Long Plain, and later became vice-president of the Manitoba Indian Brotherhood. Prince helped found the Dakota Ojibway Tribal Council and the Dakota Ojibway Police Force, the first Indigenous law enforcement agency in Canada, in 1977.
Before his service, Prince attended the Portage la Prairie Indian Residential School, now renamed the "Rufus Prince Building".
Thomas George Prince, a descendant of Chief Peguis, was from Brokenhead Ojibway Nation. He is one of Canada's most decorated First Nation war heroes!
Prince was known to carry a pair of moccasins that he would use to silently infiltrate enemy bases in the cover of night. He would even play tricks on soldiers as they slept; such as taking their boots or leaving a calling card while slipping away unnoticed. His unit became known as the Devil's Brigade because the Nazis couldn't believe that he was a real person.
Tommy Prince was decorated by King George VI at Buckingham Palace with both the Military Medal and the Silver Star with ribbon, on behalf of the US President.
Elliott Ratt, from Peguis First Nation, served in World War I with the Canadian Army from 1916 to 1918. He was wounded in action by mustard gas and returned from the war to live in the Selkirk, Manitoba area. He had a small farm in Libau, MB, was able to receive a Veteran's pension, and spent his time as a contractor for farmers in the Libau area helping to clear farmland.
In 1944, Elliott passed away due to complications from his exposure to mustard gas, leaving behind his wife, Mary Louise George, and 16 children. Elliot and Mary were both Peguis First Nation band members.
Lionel Shannacappo from Rolling River First Nation, whose Anishinaabe Wiinzowin was Manidoo-Asin, served in World War II. He was a Chief of Rolling River First Nation, a Sundance Chief, and Midewiwin. He was a carrier of multiple pipes, sang Sundance songs, and Midewiwin Water Drum Songs.
His protective spirit extended beyond the battlefield as Lionel advocated for First Nations rights by being a part of the National Indian Advisory Board in the 1960s which was a precursor to the Assembly of First Nations.
Corporal Melvin Swan, CD, was born in Ashern, Manitoba in 1959 and grew up in Lake Manitoba First Nation. Melvin served four years in the Princess Patricia's Canadian Light Infantry and seven years in the military police.
"When I was 18, I needed to get away after day school and residential school, and I left for the military."
Following his service, Swan won a Federal Court case against the military for discrimination during his time in uniform.
When asked about what Indigenous Veteran's Day means to him, Melvin said, "Well, I was there when it was created… What it means to me, is always remembering the Veterans that have passed, and honouring them in a good way."