Health Transformation at SCO
Currently there is a documented 11 year and growing gap in life expectancy between First Nation citizens and all others living in what is now known as Manitoba. SCO is working to change that through transforming the health care system.  
The Health Transformation Process is a community-led engagement process which began in 2019 following the passing of the SCO Chiefs-in-Summit resolution, Exercising our Treaty, and Inherent Right to Health. The resolution was a significant step towards transforming the health care system in accordance with the priorities set out by our southern First Nations. In June 2020, SCO signed an historic memorandum of understanding with Canada to work together to begin to transform the health care system, and in 2021, another SCO Chiefs-in-Summit resolution was passed, this time to support a Health Transformation Action Plan to fulfill First Nation priorities for an Agreement-in-Principle. In June of 2022, Manitoba committed to developing an Agreement-in-Principle with Canada and the Southern Chiefs' Organization. This First Nations led tripartite table will result in the formation a southern First Nation health system that will launch later this year.
The Agreement-in-Principle will establish the relationship protocols and shared priorities for health care for our southern First Nation citizens and formalizes the commitment of all three parties to a working relationship. Health Transformation FAQs
We Walk for Health Transformation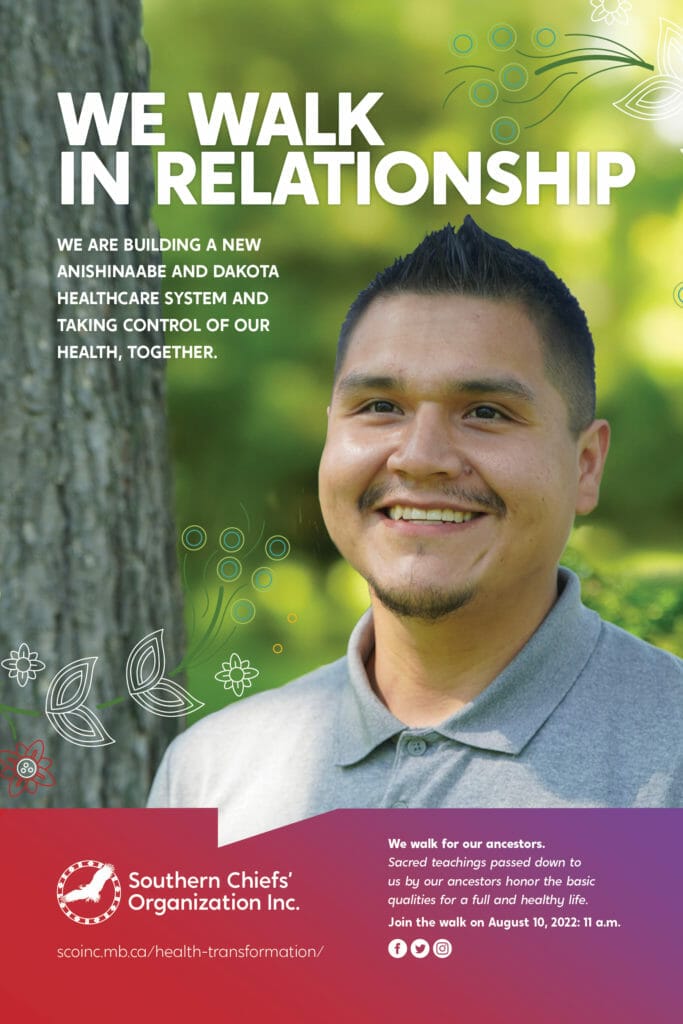 In August of 2022, Health Transformation launched its first ever Community Health Walk Campaign, led and organized by our Community Health Transformation Liaisons. The Community Health Walk was a demonstration of First Nation strength and unity, and saw over nine communities walking together in kinship and genuine relationship for various personalized health causes in their communities on the 10th of August 2022. The theme of the day in each community was centered around First Nations taking control of their health and raising awareness for the upcoming, community-led development of a new Anishinaabe and Dakota Healthcare system. Learn more
Health Transformation Leaders: Chiefs, Elders and Knowledge Keepers, Advisory Circles and Health Directors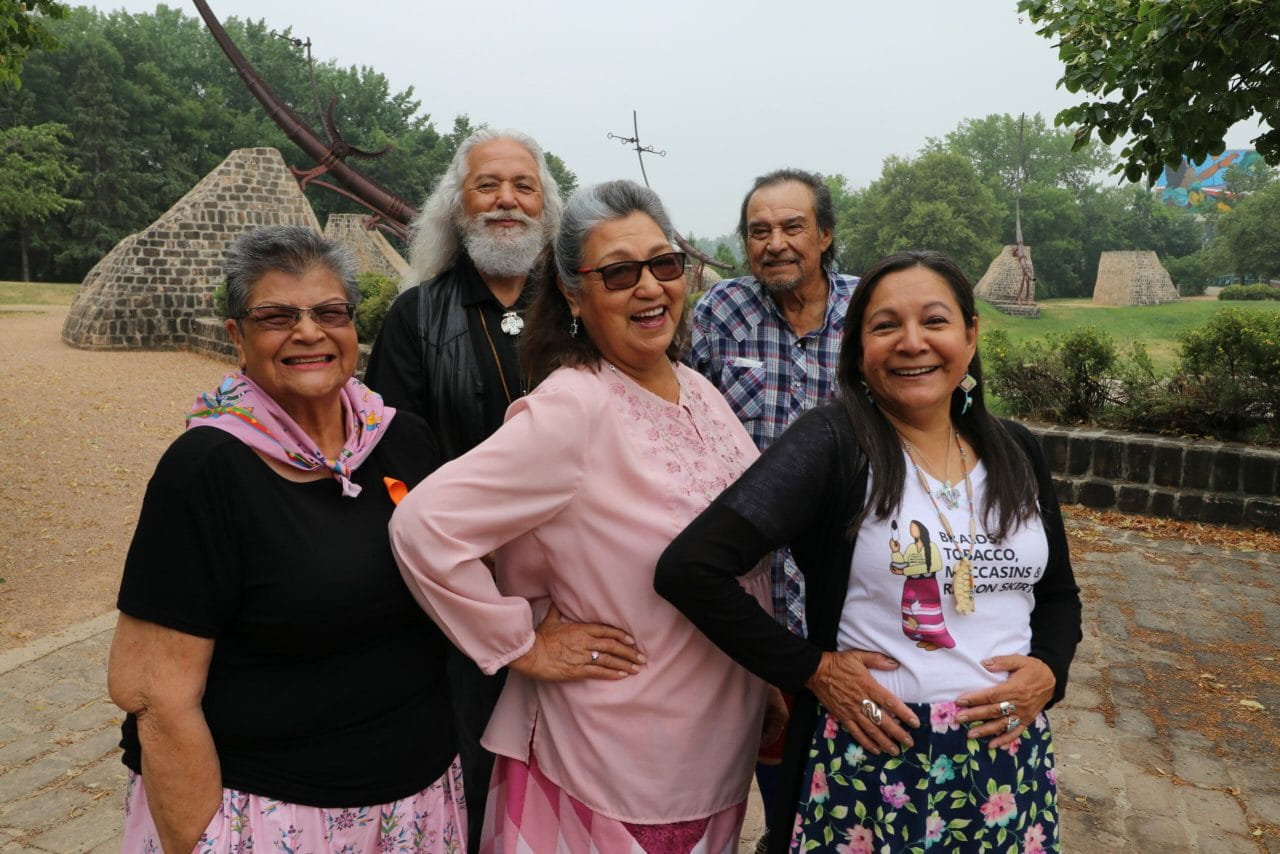 The Health Transformation process is led by the Chiefs' Health Action Table (CHAT) and chaired by Acting Chief Gordon Bluesky of Brokenhead Ojibway First Nation. CHAT guides the Health Transformation process by providing direction, identifying issues, and working with other leadership to build support for the Health Transformation process. The Health Directors' voices and input also leads the work we do as we move closer to the development of a new healthcare system. SCO Health Directors' Association Resolution (PDF).
As Health Transformation moves forward through the community-led engagement process, expert guidance has been pivotal and necessary in specific areas. Three advisory tables were established to assist and provide direction on the Health System design:
The Elders/Knowledge Keepers Committee
Health Transformation Advisory Circle; and
Gender-Based Violence Advisory Circle
The Right to Health
Under Section 35 of the Constitution Act, 1982, First Nations have inherent Aboriginal and Treaty rights that include the right to health and self-determination over health systems. In addition, Treaties reaffirmed First Nations' jurisdiction over our own health systems and established a positive obligation on the Crown to provide "medicines and protection," and Aboriginal rights affirm First Nations' right to self-determination towards our way of life.
The path forward to improved health outcomes for First Nations must include high quality, culturally safe health systems that are designed by and under the leadership of First Nations.
In 2007, the United Nations emphasized the importance of Indigenous rights to pursue self-determination in the United Nations Declaration on the Rights of Indigenous Peoples. The MOU responds to the Truth and Reconciliation Commission of Canada's Calls to Action and the Calls for Justice from the National Inquiry into Missing and Murdered Indigenous Women and Girls (MMIWG), which calls on governments to implement actions to improve First Nations' health.
Our Way Forward
All levels of government recognize the need to work collaboratively to establish a new health care model where First Nation communities, leadership, and health care professionals have increased self-administration, self-determination, and self-governance authority. First Nations will assume greater control and be responsible for the design and delivery of community-based health care services and systems.
Through a community-driven process, the Southern Chiefs' Organization is working with First Nation partners and all orders of government to build a First Nation health system in southern Manitoba that encompasses the following:
Decisions made by First Nations, for First Nations
Full range of community based health care services, improved infrastructure, and increased health human resources
Community-based approach where services are more culturally responsive, reflective of regional particularities, and also provided "closer to home"
Opportunity to increase access and obtain better care including enhanced primary care service delivery
Ability to work more collaboratively with other sectors (i.e. social determinants of health)
Strengthened and effective partnerships with provincial health system to ensure seamless continuum of care and culturally safe health care delivery to First Nation citizens
Health Transformation Community Engagement and Strategic Directions
Health Transformation at Southern Chiefs' Organization is guided by the community engagement process and individual community members, health teams and leaders have communicated several guiding principles informed by Dakota and Anishinaabe ways of knowing. We are defining our vision, success, and growth through the five main priorities identified during the 2020-21 community engagement process
Community-based primary care services
A Cultural and Traditional Knowledge Foundation to Health Care
Increased Mental Health and Addictions Services
Increased Elder Programs and Services
More Health Human Resources
[Our] vision for the Southern First Nation Health Care System would be taking back control of our health system. Meaning training our own people so that we can take care of ourselves in every area possible for health care. We also need to have our own infrastructure. Let's bring the Nations together to create an equitable, safe, accessible, trusted, and sustainable Indigenous approach to care – Community Engagement Summary Report, Skownan
These five priority areas have pointed us in three strategic directions which are currently in development:
Anti-racism Strategic plan focused on combating anti-indigenous racism in the healthcare system.
Mental Health Strategic plan focused on community-based needs and regional capacity to align with the Manitoba 5-year Mental Health Strategy.
Health Human Resources Strategic Plan focused on having community members provide care.

Together, our Strategic Directions form a framework to guide our future decision making. Read more about Southern First Nation Health Care System Priorities (PDF)