Harmony Redsky
Health Director
Harmony Redsky has been with Health Transformation since October 2020.
Her favorite show is Breaking Bad and the spin-off series, Better Call Saul.
Harmony is grateful to be able to work in and create this new health space that includes and is guided by our Traditional and ancestral knowledge. She finds working with the membership of the Southern 34 – hearing the Children's voices right through to our Elders – very rewarding.
Matthew Handscombe
Information Governance Coordinator
Matthew grew up in an immigrant household in the suburbs of Toronto, moving here with his Winnipeg-born wife in 2006. A Librarian by training, he has held that role in corporate, academic, legal, and legislative settings for over 20 years. Outside of SCO, he runs a theatre company with his wife Krista, enjoys reading in a hammock and long, long walks. A bicycle mechanic throughout high school and university, he loves nothing more than a leisurely tandem ride with his son Miles on a nice day.
He's grateful to have the opportunity to work for the southern 34 as they assume control over their health systems and outcomes. Meeting people, learning, and synthesizing information have been particular highlights of Matthew's Health Transformation journey so far and he's really looking forward to continuing to advocate for communities and to do everything he can to ensure their needs are met for a better future.
Mona Bencharski
Senior Policy Analyst
Mona Bencharski has been working with Health Transformation since December 2020.
She is a huge tennis fan, both Women's and Men's. She also loves watching hockey (Go Habs Go!) and the CFL (Go Blue Go!).
One of the things Mona truly enjoys about her Health Transformation work is her meetings with the Elders.
"I believe I am truly blessed to be working with these grandmothers and grandfathers. I enjoy listening to all the wonderful teachings and stories they share."
Jessica Pierre
Program Coordinator
Jessica Pierre is Ojibway from Roseau River Anishinaabe First Nation. Currently living in Winnipeg, Jessica has three children ages 18, 16 and 5 years old and a significant other.
Jessica's current hobbies include a lot of Netflix, Disney + watching with family and movie musicals such as Chicago, West Side Story, and La La Land (her family dislikes them). Her current obsession is playing the piano.
Health Transformation has allowed Jessica to create working relationships with grandmothers and grandfathers and it has truly been an honor to her to be gifted with their knowledge on traditional ways and teachings. Jessica would like to strengthen these traditional ways within her own family and practice the teachings more often.
Michéal Ellis
CHTL Manager
Michéal Ellis is Sayisi Dene from Tadoule Lake and grew up in Thompson. She has been working for Health Transformation since June 2021.
She moved to Winnipeg for school. She has too many favourite things to name, but loves to read, watch movies/tv, run, yoga, camping, hiking, hunting. Anything outdoors really.
Michéal enjoys visiting the First Nations communities and meeting new people.
Ada Chukwudozie
Senior Advisor, Public Education and Outreach
Ada started her Health Transformation journey in February and ever since has been enjoying the relationship building and community driven initiatives that represent the heart of Health Transformation at SCO. Ada is an avid movie fanatic and storytelling enthusiast and, in her downtime, enjoys binge-watching, spoken word poetry and fantasy/sci-fi novels. Her current favorite TV show is the Witcher.
Ada looks forward to working with communities and helping share their health transformation stories.
Serge Desrosiers
Public Education and Outreach Specialist
Serge Desrosiers was born in The Pas and grew up a little bit of everywhere around Manitoba. He has been working with Health Transformation since March 2022.
Serge is Métis and French and he enjoys stories in all forms, whether it's sharing adventures around a fire or watching through a screen. His favourite novel is Deadhouse Gates from the "Malazan Book of the Fallen" series, an epic fantasy story that follows soldiers warring against Gods. Crib will always hold a special place in his heart from his childhood. He likes doing all the outdoor activities as far away from the city as possible when he's not on his computer playing video games or writing his own stories.
Serge looks forward to visiting First Nations communities and helping them share their voices and amazing work with everyone!
Erin Egachie
Administrative Assistant
Erin is from the Roseau River Anishinaabe First Nation. In her spare time, she enjoys weightlifting, golfing, and playing slo-pitch.
Erin is excited to be a part of the health transformation team.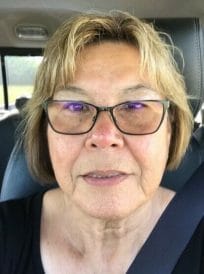 Debbie Blackbird
Regional Navigator – Western Region
Debbie Blackbird is from Keeseekoowenin First Nation and is a mother of 2 adult children and a grandmother of 5 grandchildren. Debbie loves to travel and meet people, and she cannot wait for the Pow Wows to start up again. Debbie has been our Regional Navigator for the Western Region since July 2020 and has enjoyed working with the team at Health Transformation and is looking forward to learning more about the communities in the Southern area
Paula Richards
Regional Navigator – Interlake Region
Gertrude Johnson
Regional Navigator – Southeast Region
Waabishki Ma iingan (white wolf), or in English, Gertrude Johnson is from Peguis First Nation.
She has been married to Tim Johnson for 33 years come June 2, 2022. She is a mother to four children, three daughters and a son. Grandma to four grandchildren, one granddaughter and three grandsons. She enjoys traveling, beading, camping, and attending pow-wows. Her favorite book growing up was the Box Car Children, her favorite movie was Steel Magnolias, and favorite TV show is Big Bang Theory.
Gertrude is excited about working with an awesome team and meeting new people. She enjoys listening to our Elders from our traditional knowledge keepers.