While 2020 brought many hardships and tragedies… there were still many highlights and cherished memories.
Here are seven highlights from 2020 for the Southern Chiefs Organization:
Acclamation of Grand Chief Jerry Daniels
In January, SCO made history when our leader Grand Chief Jerry Daniels was acclaimed. This marked the first time an incumbent Grand Chief has ever run unopposed.
SCO Pandemic Response
Like the rest of the world, SCO was thrust into action when the first wave of the COVID-19 pandemic struck. Since early March, SCO has provided continuous information on critical resources for all its member communities. It is a collective team effort that we are exceedingly proud of. A complete list of our response efforts can be found on our COVID-19 Resources page.
Taking Control of Our Health
Anishinaabeg and Dakota peoples will assume greater control of their health and wellness, as a result of an historic Memorandum of Understanding (MOU) signed on June 18, 2020 in an innovative virtual ceremony between Southern Chiefs' Organization and the Government of Canada. The MOU signals the beginning of health transformation for First Nations in southern Manitoba, including equitable access and culturally-appropriate health care for Elders, youth, families, and communities that is central to wellness and the success of Anishinaabeg and Dakota peoples.
You can learn much more on this historic initiative by visiting our Health Transformation page!
Ensuring a Safe Water Supply
For the second year in a row, we embarked on a robust water testing project in 25 of our 34 communities. Water is sacred and plays an essential role in the functionality and sustainability of life on this planet. Due to generations of displacement from our lands, poor infrastructure, and systemic neglect, First Nations have become the most vulnerable population in Canada when it comes to water quality and access. For more information on this vital program, be sure to visit our Water Committee page!
Golfing for First Nation Education!
Our third annual golf tournament was a resounding success raising more than $70,000 for post-secondary scholarships. Through a partnerships with Indspire and the Winnipeg Foundation, the scholarships will be awarded to students from SCO-member communities. To learn more our scholarship fund and programs, visit our Education page!
In Solidarity With All Our Relatives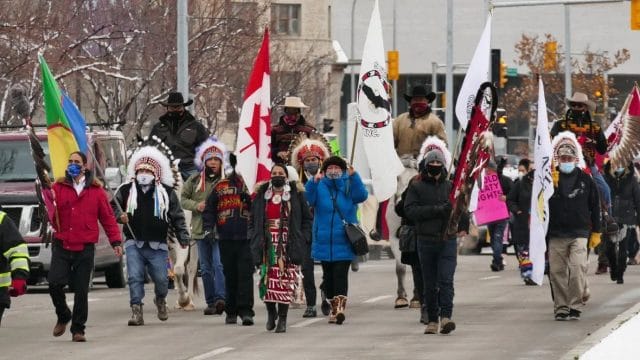 In October, we were proud to take part in a Horse Spirit Ride and rally through downtown Winnipeg to show support for the well-being of our Mi'kmaq relatives in what is now known as Nova Scotia. This event also called on all levels of government  to respect First Nation harvesting rights as they are not up for negotiation.
Wall of Honour
We were absolutely overwhelmed with our communities' responses and contributions as we created a "Veterans Wall of Honour" to mark the sacrifices of First Nation veterans from southern First Nations in Manitoba. This was by the far the most popular social media campaign we have ever held!
Miigwetch, Wopida to everyone who shared their relatives' beautiful stories of sacrifice and courage. Check out our Wall of Veterans here!
A New Year
There is much more we accomplished together in 2020, including ending Birth Alerts and issuing a Parents' Bill of Rights, speaking out on MMIWG and asking all Canadians to come together to end this national tragedy, and honouring the Survivors of Indian Residential Schools and Day Schools… yet there is much left to do!
The SCO team will continue to work tirelessly in 2021 to create more positive outcomes and great memories.
Happy New Year to you and your loved ones!