It has been a very uncertain year for everyone as a new "normal" emerged and precious lives were lost due to the COVID-19 pandemic.
The disproportionate impact on First Nations and their citizens remains a top issue. Throughout every difficult moment this year, First Nation frontline workers and leadership have stood up and devoted themselves to helping others and saving lives. Chiefs, Councils, Health Directors, front line workers, and others have devoted themselves to keeping their communities safe throughout the long and difficult pandemic.
In recognition of World Health Day 2021, we celebrate some of the SCO Health Care Heroes we have had the pleasure of meeting this year!
Let us know who YOUR favourite health care hero is by emailing media@scoinc.mb.ca.
Meet a Community Champion – Pinaymootang First Nation
Gwen Traverse is the Director of Health for Pinaymootang First Nation and she has helped to transform health care in her home community!
Gwen works tirelessly with her staff to offer care in a comforting environment. From staff retention to the range of services offered, the Pinaymootang Health Centre is a leader making a real difference.
Pinaymootang First Nation has had the unenviable task of containing the COVID-19 pandemic while being located at the gateway between southern and northern Manitoba.
Every day the community sees a great deal of traffic flowing in and out of its traditional territory. Despite that obstacle, Chief Garnet Woodhouse says there was immediate community buy-in when it came to a full COVID-19 response.
From council members, to Pinaymootang Health Centre staff and local church leadership, Chief Woodhouse says everyone banded together to keep the virus at bay. Earlier reports reveal that all eligible Elders have received both doses of the Moderna vaccine.
A Monumental Task – Brokenhead Ojibway Nation
Keeping COVID-19 in check for Brokenhead Ojibway Nation has been no easy feat.
Highway 59 cuts right through the heart of this First Nation's territory, bringing with it thousands of people to the beaches and cottage country on Lake Winnipeg's east shore.
Under the guidance of Health Director Aleisha Desjarlais and thanks to the tireless efforts of her staff and other community members, the community is even welcoming visitors to their businesses with safety precautions in place. Another remarkable achievement for a First Nation… against formidable odds!
A Proud Health Director – Lake Manitoba First Nation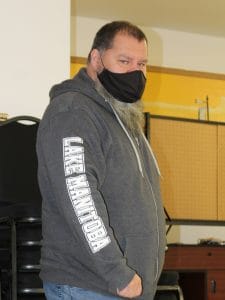 Lawrence West is the Health Director in Lake Manitoba First Nation. He cannot speak highly enough of his team and their response to the pandemic and the care they have been providing.
From delivering freezers filled with meat packs for every Elder… to an awareness campaign on vaccine safety, Lake Manitoba experienced complete community buy-in when it comes to its pandemic response.
From youth to health centre staff, everyone at Lake Manitoba should be proud of their efforts!
Epitome of Strong Leadership – Pine Creek First Nation
Last year, SCO made history by signing an historic agreement with the federal government to begin transferring control of health care into our own hands.
Chief Karen Batson from Pine Creek First Nation is a remarkable leader who chairs SCO's Chiefs Health Action Table.
When asked about this critical work, Chief Batson remarked she sees an opportunity to envision, create, and develop a health care system that TRULY addresses the diverse health care needs of all First Nation people in southern Manitoba.
Before being elected as Pine Creek's first female Chief in early 2017, Batson taught at Brandon University and Assiniboine Community College and also worked as a Mental Health Practitioner.
We are so fortunate to have Chief Batson leading this initiative for our communities!
Special Mentions
Nurse Cindy Garson
Cindy is the Director of Health for the Interlake Reserves Tribal Council (IRTC). In her role, Cindy represents the IRTC at various working groups advocating for enhanced direct health care services for First Nation communities.
Due to her exceptional experience as nurse for 27 years with 10 years of health management experience, Cindy was selected to represent SCO on Manitoba's Intergovernmental COVID-19 Vaccine Task Force.
"Our deepest thanks and gratitude goes out to our colleague Cindy Garson," said Grand Chief Daniels. "Her commitment to serving our 34 Anishinaabe and Dakota First Nations on this essential Task Force is remarkable, and it follows decades of commitment to improving health services for our people at the local, regional and national levels."
Dr. Marcia Anderson
Dr. Marcia Anderson, MD, is Cree-Anishinaabe and grew up in the North End of Winnipeg with family roots from Peguis First Nation and Norway House Cree Nation.
At the age of four, Marcia Anderson says she knew that one day, she wanted to become a doctor—twenty years later, Anderson was the youngest Indigenous graduate from the Faculty of Medicine in Manitoba and the youngest president of the Indigenous Physicians Association of Canada!
Anderson is now Vice-Dean of Indigenous Health at the Rady Faculty of Health Sciences at the University of Manitoba and Executive Director of Indigenous Academic Affairs at the Ongomiizwin Indigenous Institute of Health and Healing.
Dr. Anderson has been a critical leader for all First Nations in Manitoba throughout the Pandemic.
She sprang into action as a lead organizer for a First Nation COVID-19 vaccination pop-up site in Winnipeg that opened earlier this year. She said it was "extremely personally rewarding after a very difficult 10-11 months to be able to sit with some knowledge keepers and healers, offer them the vaccine, and pray together."
We appreciate all the Dr. Anderson has done for our Relatives and communities. She will be a true inspiration for generations to come!
The SCO Health Unit was established in response to the high rates of disease occurring within the Southern First Nation communities through a resolution on January 13, 1999 by the SCO Chiefs-in-Summit. Since then, the SCO Health Team has provided support as requested by member First Nations in the areas of: advocacy, advisory, facilitation, communication, policy development, and research.
To learn more about SCO's health programs, including our amazing community health transformation liaisons, visit our Health Transformation page.