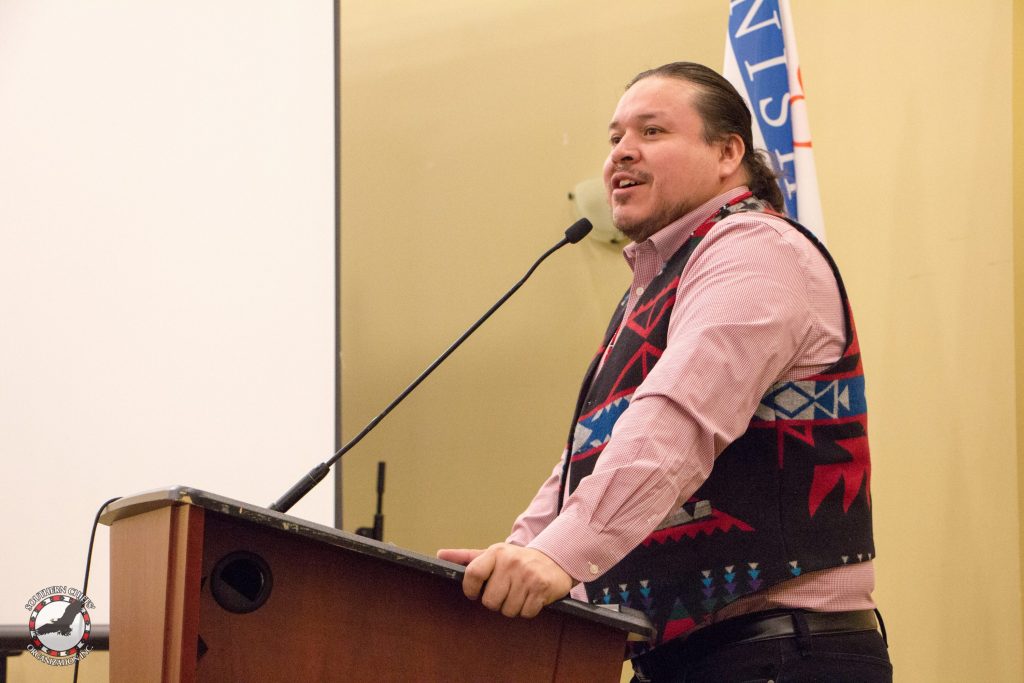 FOR IMMEDIATE RELEASE: November 20, 2019
ANISHINAABE AND DAKOTA TERRITORY, MB — Southern Chiefs' Organization (SCO) Grand Chief Jerry Daniels would like to take this moment to congratulate the Ministers sworn in to the Federal Cabinet today by Prime Minister Justin Trudeau.
Grand Chief Jerry Daniels extends his welcome, "I look forward to working with this slate of Ministers towards building stronger relationships of mutual benefit of all of our peoples.  I would like to extend a special acknowledgement to Ministers Carolyn Bennett, Minister of Crown-Indigenous Relations, Marc Miller, Minister of Indigenous Services, and Dan Vandal, Minister of Northern Affairs. We look forward to meeting with you all and continuing our work together to help out our 34 southern First Nations."
SCO send its congratulations to the following Federal Cabinet Ministers:
Chrystia Freeland, Deputy Prime Minister and Minister of Intergovernmental Affairs
Anita Anand, Minister of Public Services and Procurement
Carolyn Bennett, Minister of Crown-Indigenous Relations
Marie-Claude Bibeau, Minister of Agriculture and Agri-Food
Bill Blair, Minister of Public Safety and Emergency Preparedness
Bardish Chagger, Minister of Diversity, Inclusion and Youth
Mona Fortier, Minister of Middle-Class Prosperity and Associate Minister of Finance
Steven Guilbeault, Minister of Canadian Heritage
Patty Hajdu, Minister of Health
Ahmed Hussen, Minister of Families, Children and Social Development
Melanie Joly, Minister of Economic Development and Official Languages
David Lametti, Minister of Justice and Attorney-General
Lawrence MacAulay, Minister of Veterans Affairs and Associate Minister of National Defence
Catherine McKenna, Minister of Infrastructure and Communities
Marc Miller, Minister of Indigenous Services
Maryam Monsef, Minister for Women and Gender Equality and Minister of Rural Economic Development
Bill Morneau, Minister of Finance
Seamus O'Regan, Minister of Natural Resources
Carla Qualtrough, Minister of Employment, Workforce Development and Accessibility
Pablo Rodriguez, Leader of the Government in the House of Commons and Quebec Lieutenant
Harjit Sajjan, Minister of National Defence
Filomena Tassi, Minister of Labour
Dan Vandal, Minister of Northern Affairs
Jonathan Wilkinson, Minister of Environment and Climate Change
We wish you all the best in your new appointments, and look forward to seeing how First Nations can work together to better service our respective communities and constituencies.
The Southern Chiefs' Organization represents 34 First Nations of Manitoba in agreement to establish an independent political forum to protect, preserve, promote, and enhance First Nations peoples' inherent rights, languages, customs, and traditions through the application and implementation of the spirit and intent of the Treaty-making process.
-30-
For further information, please contact Vic Savino at (204) 946-1869 or via email at Vic.Savino@scoinc.mb.ca.
Original PDF Press Release: Federal Cabinet 2019 Appointments PR