UPDATE: Clinic is now full.
SCO *may* be able to accommodate some walk-in visits on January 25 and 26.
Please watch our Facebook page (link to: www.facebook.com/SCOIncMB) on those dates and we will post information about any openings as information becomes available.
SCO to Host Status Card Clinic in Portage la Prairie on January 25 and 26, 2023
The Southern Chiefs' Organization (SCO) is pleased to confirm our Status Card Program will be in Portage la Prairie on January 25 and 26, 2023, at the Herman Prior Activity Centre, 40 Royal North Road.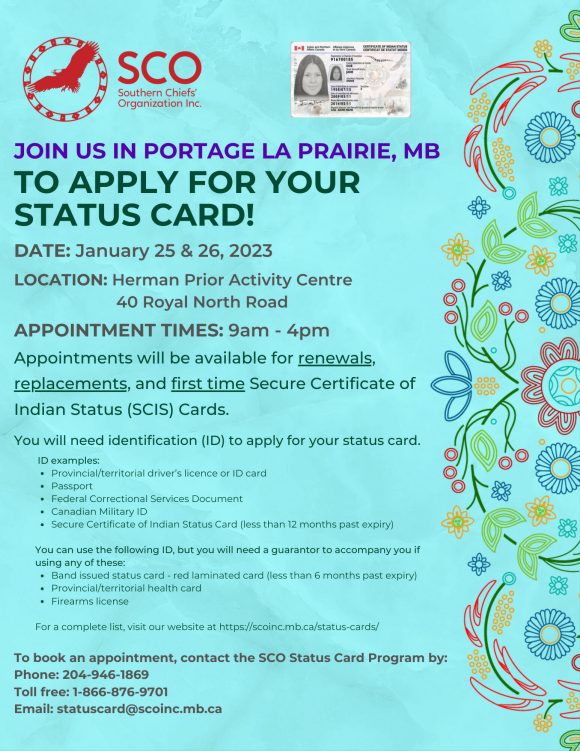 The SCO Status Card Program is taking appointments to assist community members with renewals, replacements, and first-time applications for the Secure Certificate of Indian Status (SCIS) Cards.
Appointments are available between 9:00 am – 4:00 pm.
To book an appointment, contact the program by:
Phone: 204-946-1869
Toll Free: 1-866-876-9701
Email: statuscard@scoinc.mb.ca
Please make an appointment in advance to receive services at this clinic. We will update this webpage when/if all appointments are filled.
You will need a form of identification (ID) to apply for your status card at your appointment.
Acceptable ID examples:
Provincial/territorial driver's licence or ID card
Passport
Federal Correctional Services Document
Canadian Military ID
Secure Certificate of Indian Status Card (less than 12 months past expiry)
You can use the following ID, but you will need a guarantor to accompany you if using any of these:
Band issued status card – red laminated card (less than 6 months past expiry)
Provincial/territorial health card
Firearms license
The main type of guarantor at status card clinics are:
Anyone who is registered
A person who is over 18 years of age
A person who has known the applicant for 2+ years
You can find more about guarantors here.
For more information on the SCO Status Cards Program, visit: https://scoinc.mb.ca/status-cards/