To mark Indigenous Justice Awareness Day 2021, we want to highlight a few of our Community Justice Workers for the amazing work they do!
We also want to hear from you! Fill out our quick 10 minute survey on racism in police services in Manitoba. All responses are 100% anonymous.
Crystal Brown, Community Justice Development Coordinator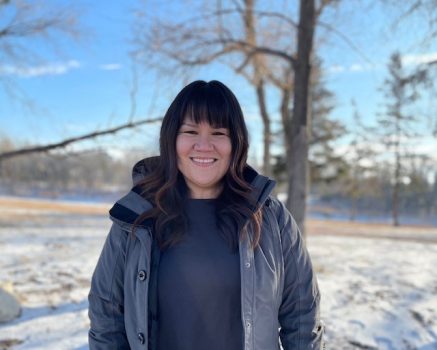 Crystal is SCO's Community Justice Development Coordinator. She says often our people do not have supports when they enter the courtroom, or they may not have a lawyer or a support network of family or friends who can advocate for them. But as our Community Justice Development Coordinator, Crystal has the opportunity to advocate on their behalf!
Her community of Brokenhead Ojibway Nation was very supportive in helping her to create a program that focuses on accountability, repairing the harms caused, and taking responsibility.
Crystal says the most fulfilling part of her job is working with clients and seeing the positive progression through their programming. She also loves seeing the sense of relief on their faces, knowing she will fully support them every step of the way.
There is nothing else she would rather be doing than working for the betterment of her people!
Crystal Nepinak, Community Justice Worker, Pine Creek
Crystal is a Community Justice Worker based in Pine Creek First Nation. She works to resolve conflict in her community by using restorative justice practices including diversion mediation and by guiding the healing process for those involved in crime.
Restorative Justice is a principle that SCO incorporates in our program delivery. It includes assisting the healing of the individual who has done wrong, the victim and/or family of the victim, and the rest of the community that has been affected.
Andrea Swampy, Community Justice Worker, Sagkeeng
As a Community Justice Worker in Sagkeeng First Nation, Andrea really enjoys working with her community members, in and out of the courtroom setting.
With Andrea's guidance, her clients engage in restorative justice by incorporating self-reflection, which helps give them courage to start working on making small changes in their lives and to start on a new and positive path.
The pride and sense of accomplishment her clients have at the end of this process is what she loves about working as a Community Justice Worker.
We thank Andrea for bringing restorative justice to the people of Sagkeeng and for truly making a difference!
Bonnie Woodhouse, Community Justice Worker, Pinaymootang
Bonnie is a Community Justice Worker and a member of Pinaymootang First Nation.
Bonnie has been actively promoting restorative justice in her community and surrounding areas including Dauphin River and St. Laurent. She engages with individuals who have become involved in the Justice system and works with community members, Chief and Council, lawyers, crown attorneys, RCMP, and judges as part of the restorative justice process.
The process is based on the needs and wants of the community. She assists in the healing process by involving the victim and/or community, as well as the person in conflict with the law. It is an inclusive and humane approach to justice and healing.
She tells us that her position as community justice worker is rewarding as she helps her people and community restore peace and harmony!
Southern Chiefs Organization (SCO) strives to prioritize the growth, advocacy, and support of its member First Nations. SCO seeks to redeem its rightful place in managing justice through traditional systems of governance and law. When working with our community members, SCO provides the ability to maintain peace, balance and harmony while working within the Canadian criminal justice system.
As First Nation people, we carry the responsibility to care for our communities and view justice as a way to restore balance within our communities.
To learn more about SCO's Justice program, including our other stellar community justice workers and engagement liaisons, and how they are an integral part of the First Nations Justice Strategy (FNJS), a community-based program that provides quality, confidential support through restorative justice interventions and mediations, visit our Justice Departement's webpage.