The Gender-Based Violence Advisory Circle (GBVAC) is composed of experts and knowledge keepers in the field of gender-based violence, women's services and family. It includes 2SLGBTQ+ members, Elders (Grandmothers and Grandfathers), professionals, and advocates in the field of GBV. The advisory circle has an advisory role, informing every single step of the Health Transformation process. Each member brings a wealth of knowledge related to Women and Gender Equality. GBVAC Resource Sheet (PDF), GBVAC Terms of Reference (PDF), GBVAC Literature Review (PDF).
GBVAC Membership
Mary Maytwayashing
Lake Manitoba First Nation
Mary Maytwayashing, (Zoongi Gabawi Ozawa Kinew Ikwe, Strong Standing Golden Eagle Woman) is from the Lake Manitoba First Nation. Mary is a wife, mother and a grandmother. Mary is an Anishinaabe Grandmother who leads Traditional Ceremonies. Mary's Western educational background is Social Work. Mary's professional career has been in the areas of Substance Abuse, Child Welfare and Education. Mary's greatest learning has come from the Traditional Knowledge Holders with whom she has had the privilege of working with. Mary's passion continues to be in assisting and educating people about the Ancestral ways of the First People to these lands. Mary has facilitated alongside Grandmothers and Elders, teaching young girls and women on the Grandmothers' Teachings, "Coming of Age " Rites of Passage teachings. Mary believes that we are all born with an Identity, and each is gifted with a purpose. As a people, we must find what our purpose is. This can be done through the foundation of our culture and teachings. Mary continues to live her purpose by honoring and facilitating the teachings and sharing with the people.
Ashleigh Bear – Community Member
Peguis First Nation
Ashleigh is a mother of two, from Brokenhead Ojibway Nation where she lived for many years and although she moved recently, she still stays connected to the community by being part of the Membership Committee, Jordan's Principle committee, and the Local Childcare Committee which was amalgamated with the local CFS advisory circle. Ashley is also on the board of directors with Manitoba Moon Voices Inc and is currently a student at Red River Polytech. Ashley has 4 years worth of experience working directly with MMIWG2S+ affected families and has actively participated in the Manitoba (MM)IWG2S+ Coalition.
Cara McCaskill – GBVAC Field Expert
The Women's Resource Centre, Brandon
Cara holds a Bachelor of Arts degree from the University of Winnipeg with a double major in History and Political Science, as well as a Master of Human Rights degree from the University of Manitoba. Her work, both academic and professional, has focused almost exclusively on gender and equality, specifically on gender-based violence. Cara completed her practicum placement at Klinic in Winnipeg, where she built rights & responsibilities and inclusion frameworks on which Klinic will base policies in the future. Cara is also the current Sexual Assault Resource Coordinator for The Women's Resource Centre in Brandon, where she has been able to create education and awareness around gender-based violence.
Charlene Brandon – Community Member
Waywayseecappo First Nation
Charlene Brandon is the wellness worker at Waywayseecappo First Nation Health Centre. Charlene's greatest achievement is teaching the Ojibwe language to children in grade school. Her goal is to continue speaking and sharing the language that she speaks.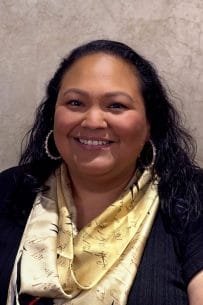 Denise Cook – GBVAC Field Expert
Ka Ni Kanichihk Inc.
Denise Cook is originally from Northern Manitoba but has lived in the urban area of Winnipeg most of her life. She currently works with Ka Ni Kanichihihk Inc. as the Team Lead in the Heart Medicine Lodge Program, a culturally based support and advocacy service for Indigenous women who have experienced sexualized violence. Denise is grateful for the work that she is able to do today with the women in community who are on their healing journey. It's been an honor for her to see this amazing transformation of growth and healing.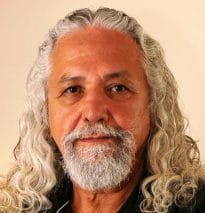 Glenn Cochrane – Community Member
Peguis First Nation
Elder Glenn Cochrane is a visionary pipe carrier who received his rights of passage and teachings mainly through Elder Don Cardinal and his grandmother. Glenn has been working in the Aboriginal community for over 30 years in various capacities.He is an activist, educator and Aboriginal cultural leader who held various management and human service positions with Aboriginal and non-profit, private, and governmental organizations. He has been instrumental in the development of many Aboriginal organizations and initiatives in the city of Winnipeg for a number of years in various capacities including as the Director of the former gang prevention program for the city of Winnipeg Police Service and was the first Aboriginal male board president of an all-female organization (i.e., Native Women's Transition Centre). Glenn is currently on the Board for Aboriginal Health and Wellness and the Social Planning Council of Winnipeg. Glenn is a respected Elder who has over 4 years of post-secondary education. Glenn holds University Certificates in Management, Public Relations, Training and Development, Training and Consulting and Native Family Life Counseling. He is the father of three grown children and a grandfather of seven children and a great grandfather of four great grandchildren.
Gloria Lalman – Community Member
Peguis First Nation
Elder Gloria K. Lalman is Cree from Peguis First Nation, currently living in Winnipeg. She is retired now after 35 years of public service. Gloria is proud of her 4 children, 17 grandchildren, and 1 grand dog.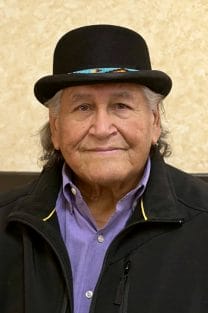 Wanbdi Wakita – Community Member
Sioux Valley Dakota Nation
Wanbdi Wakita has spent a lifetime making prayers for people. As a residential school survivor, Chief of Sioux Valley Dakota Nation and Sundance Chief, Wanbdi has walked many paths. For three decades he supported inmates in various Correctional Institutions. Presently he is the Grandfather in Residence for the University of Manitoba Access Program. In 2016 he received the Order of Manitoba for his lifelong work to champion a message of healing and unity between all nations. Wanbdi is a Sundance Chief participating in this sacred Ceremony for five decades.
Marilyn Sinclair – Community Member
Hollow Water First Nation
Samantha Harris – GBVAC Field Expert
Ka Ni Kanichihk Inc
Angie Hutchinson – GBVAC Field Expert
Wahbung Abinoonjiiag inc
Sandra Delaronde – GBVAC Field Expert
Northern Sage Consulting
Thelma Morriseau – Community Member
Crane River First Nation