Health Transformation Elders and Knowledge Keepers Committee (EKKC) is composed of Elder/Knowledge Keeper representatives from the 34 southern First Nation communities. The EKKC provides guidance and directions on issues of importance, identifies priority areas and provides guidance on strategic plans for the Health Transformation Initiative for the southern First Nation. EKKC Terms of Reference (PDF).
EKKC Membership
Dennis Sinclair
Hollow Water First Nation
Dennis Sinclair is a 68 years old retiree of 3 years having worked for his community of Hollow Water First Nation for 25 years in various capacities including as a band councilor for 4 years. Dennis was also in charge of the community services for 2 years and its health portfolio for the next 2 years after that. Following these years of service, he took over the NADAPP program as its director till his retirement. While at the NADAPP program, Dennis obtained his certificate as a certified addiction specialist and grief recovery specialist also and sat on numerous committees in the community. He was also involved with setting up many Healing Programs for community members including traditional wilderness therapy. Dennis also developed the Personal Development training program, a trauma-informed program which focuses on helping people come to terms with their past and move forward from it.
Mary Maytwayashing
Lake Manitoba First Nation
Mary Maytwayashing, (Zoongi Gabawi Ozawa Kinew Ikwe, Strong Standing Golden Eagle Woman) is from the Lake Manitoba First Nation. Mary is a wife, mother and a grandmother. Mary is an Anishinaabe Grandmother who leads Traditional Ceremonies. Mary's Western educational background is Social Work. Mary's professional career has been in the areas of Substance Abuse, Child Welfare and Education. Mary's greatest learning has come from the Traditional Knowledge Holders with whom she has had the privilege of working with. Mary's passion continues to be in assisting and educating people about the Ancestral ways of the First People to these lands. Mary has facilitated alongside Grandmothers and Elders, teaching young girls and women on the Grandmothers' Teachings, "Coming of Age" Rites of Passage teachings. Mary believes that we are all born with an Identity, and each is gifted with a purpose. As a people, we must find what our purpose is. This can be done through the foundation of our culture and teachings. Mary continues to live her purpose by honoring and facilitating the teachings and sharing with the people.
Robert Maytwayashing
Lake Manitoba First Nation
Robert is a fluent Anishinaabae who was raised in the ways of his people on the Lake Manitoba First Nation located in the Interlake Region of Manitoba. Robert is a husband of 39 years, a father of three adult children and a grandfather to ten grandchildren ranging in ages 2 – 21 yrs. Over the years, Robert has served his community of the Lake Manitoba First Nation as both a Council member and Chief. Robert was also a Health Director in two First Nation communities as well as the Senior Health Policy Analyst for the Assembly of Manitoba Chiefs. Robert was also one member on a team of three Elders that worked for a healing lodge here in Manitoba. All of this experience has given Robert the ability to share on the Canadian/First Nations relationship from a First Nations experience and perspective. Robert is currently employed by the Interlake-Eastern Regional Health Authority as the Indigenous Human Resources Development Officer where part of his function is to provide Cultural Awareness training for RHA's 3400 staff. Recently, Robert was awarded the University of Manitoba's Agriculture Diploma Program 2021 Certificate of Merit. Robert continues to hunt, fish, gather and on occasion trap as was taught to him by his family.
Glenn Cochrane
Peguis First Nation
Elder Glenn Cochrane is a visionary pipe carrier who received his rights of passage and teachings mainly through Elder Don Cardinal and his grandmother. Glenn has been working in the Aboriginal community for over 30 years in various capacities.He is an activist, educator and Aboriginal cultural leader who held various management and human service positions with Aboriginal and non-profit, private, and governmental organizations. He has been instrumental in the development of many Aboriginal organizations and initiatives in the city of Winnipeg for a number of years in various capacities including as the Director of the former gang prevention program for the city of Winnipeg Police Service and was the first Aboriginal male board president of an all-female organization (i.e., Native Women's Transition Centre). Glenn is currently on the Board for Aboriginal Health and Wellness and the Social Planning Council of Winnipeg. Glenn is a respected Elder who has over 4 years of post-secondary education. Glenn holds University Certificates in Management, Public Relations, Training and Development, Training and Consulting and Native Family Life Counseling. He is the father of three grown children and a grandfather of seven children and a great grandfather of four great grandchildren.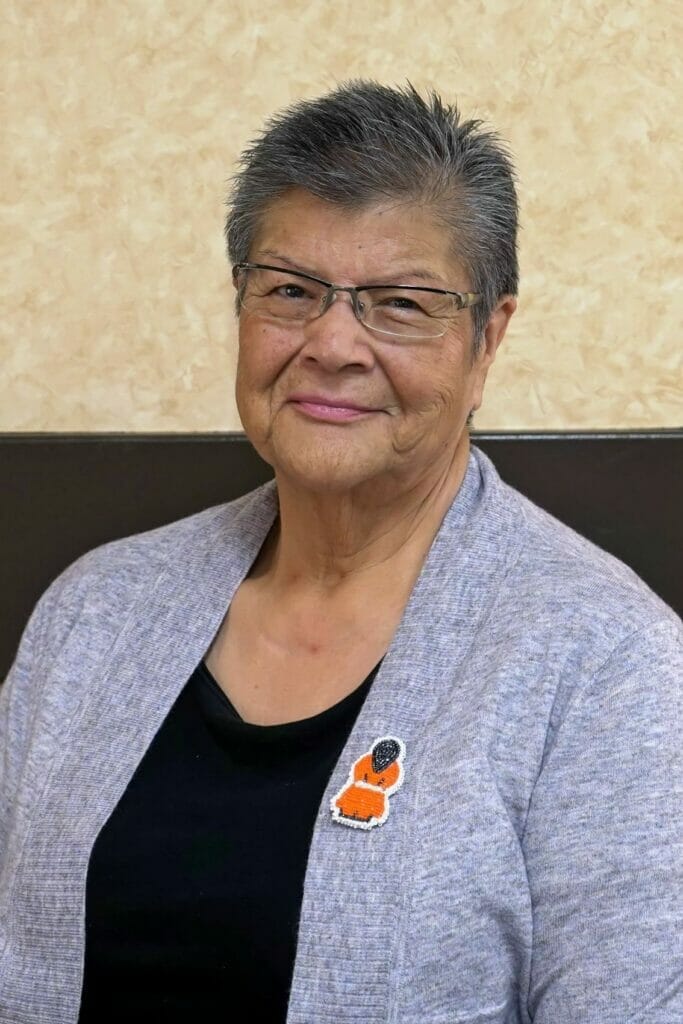 Gloria Lalman
Peguis First Nation
Gloria K. Lalman is Cree from Peguis First Nation, currently living in Winnipeg. She is retired now after 35 years of public service. Gloria is proud of her 4 children, 17 grandchildren, and 1 grand dog.
Charlie Nelson
Roseau River Anishinabe First Nation
Traditionally known as Mizhakwanigiishik (Clear Sky) or Nibidekwaneb (Feathers in a Row). Charlie belongs to the Bizhiw Doodem (Lynx Clan). He is an Ogimaw (Chief) of the Western Doorway of the Three Fires Midewiwin Lodge, of which he has earned his 6th degree of Mide. A fluent language speaker, Charlie emerged from an ancestral line of Midewiwin grounded in the traditional ways of the Anishinaabeg and desires for his community to learn the language and traditional ways. Charlie's seeking of knowledge was not limited to Turtle Island; he has traveled abroad extensively, representing Anishinaabe people and the spirit of the Anishinaabeg in various countries. Charlie was raised in the Anishinaabe community of Bagwaa'onishkoziibing (Roseau River First Nation) situated in Manitoba. He is a proud father of five and grandfather of ten. Mizhakwanigiizhik/Nibidekwaneb does not just talk about the precepts of the 7 Grandfather Teachings: Love, Kindness, Respect, Humility, Courage, Wisdom, and Truth; he embodies them wherever he walks. In this manner, he is following the footsteps of our Ancestors and leaving tracks for the next 7 generations.
Shirley Roulette
Sandy Bay First Nation
Shirley Roulette is a member of the Sandy Bay Ojibway First Nation. During her school age, Shirley has always focused on a healthy lifestyle, participating in various school sports teams, as well as being captain of these teams. Her life coach attitude has always encouraged participation in others. As well as focusing on her physical health, Shirley has maintained her mental health, and is proud to say she has never done drugs in her life. As a school teacher, Shirley focused on the children of the community within her classroom. She focused on creating a safe environment for students, and has always encouraged learning. As a High School Principal, Shirley focused on her staff morale, creating activities and addressing issues with community involvement. As Education Director, Shirley's focus was to create a successful educational environment for all, with language based curriculum, creating cultural pride within the school and community. Now, being a Knowledge Keeper and Elder of her community, Shirley continues this focus of healthy lifestyles, by teaching the traditional way of life. Gathering medicine, cooking traditional food and survival in nature are some of the teachings she shares with the children of Sandy Bay.
Wanbdi Wakita
Sioux Valley Dakota Nation
Wanbdi Wakita has spent a lifetime making prayers for people. As a residential school survivor, Chief of Sioux Valley Dakota Nation and Sundance Chief, Wanbdi has walked many paths. For three decades he supported inmates in various Correctional Institutions. Presently he is the Grandfather in Residence for the University of Manitoba Access Program. In 2016 he received the Order of Manitoba for his lifelong work to champion a message of healing and unity between all nations. Wanbdi is a Sundance Chief participating in this sacred Ceremony for five decades
Gina Mckay
Tootinaowaziibeeng First Nation
Gina McKay was born and raised in Tootinaowaziibeeng. After finishing her education, Gina started work at the Crises Centre in Thompson and subsequently went into northern nursing. She came home in 1994 to visit but ended up staying to work at the Health Office as a secretary and later in medical transportation. Currently, Gina works at CHR and has been there for 28 years.
Lillian Lynxleg
Tootinaowaziibeeng First Nation
Lillian was born on August 3rd 1944, at Kippen's Mill Ridge National Park. Her parents were Eliza and Alex Bone. Lilian's husband is Paul Lyley and together they have 4 children; Loraine, Scott, Liza, and Billy Jay; 4 grandchildren; and 2 great grandchildren. Lilian and her family live at Tootinaowaziibeeng Treaty Reserve. Lillian works at the Chief Clifford Lynxley Anishinaabe School where she teaches the language.
Beverly (Rita) Jones
Keeseekoowenin Ojibway Nation
Virginia Mckay
Berens River First Nation
Brian Cloud
Waywayseecappo First Nation
Doug Hanska
Birdtail Sioux First Nation
Gertie Ballatyne
Brokenhead Ojibway First Nation
Marjorie Prince
Dakota Tipi First Nation
Bill Ballatyne
Brokenhead Ojibway First Nation
Brenda Baptiste
Ebb and Flow First Nation
Olga Ross
Kinonjeoshtegon First Nation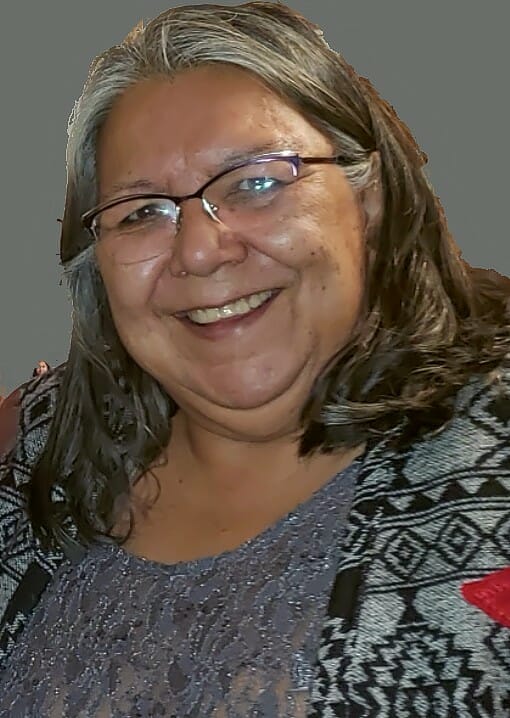 Ivy Canard
Sagkeeng First Nation
Marie Nepinak
Skownan First Nation