Land-Based Youth Gathering
17/08/2022 – 19/08/2022
Southern Chiefs' Organization Youth Council in collaboration with Southern Chiefs' Organization Health Transformation hosted a Land- Based Youth Gathering in Brokenhead Ojibway Nation. The three-day event focused on strengthening connections: to other youth, to the land, and to ancestors as a way of promoting healthier and more culturally grounded lives among southern First Nation youth in Manitoba. Read more (PDF).
Community Health Walk
10/08/2022

Southern Chiefs' Organization Health Transformation has launched a community health walk campaign aimed at promoting land-based healing and First Nations unity in health care among our southern First Nations by reminding them that their culture and traditional values give them the strength and ability to take control of all aspects of their health. Read more
Traditional Knowledge Forum
17/05/2022 – 19/05/2022
From May 17th to 19th Health Transformation hosted a Traditional Knowledge Forum at the Turtle Lodge in Sagkeeng. The Traditional Knowledge Forum was an opportunity for Grandmothers and Grandfathers from the 34 Southern First Nations communities of Manitoba to come together and discuss the path forward into a healthier future. Read more (PDF)
Youth Media Lab
28/03/2022
Health Transformation recently hosted a Youth Media Lab workshop at the Aabijijiwan New Media Lab at the University of Winnipeg with youth from the 34 communities. The event was facilitated by Nativelovenotes founder, Amy Jackson. The workshop was designed to empower youth with basic skills in digital media creation, and to promote positive life outcomes through good health. Representing some of our 34 Southern First Nation communities, the youth brought with them their own experiences. Our youth participants included rising gamers, mathletes, athletes, and musicians who all shared their unique stories and experiences on health in the form of creative health messaging on stickers and buttons. Watch the Youth Engagement report video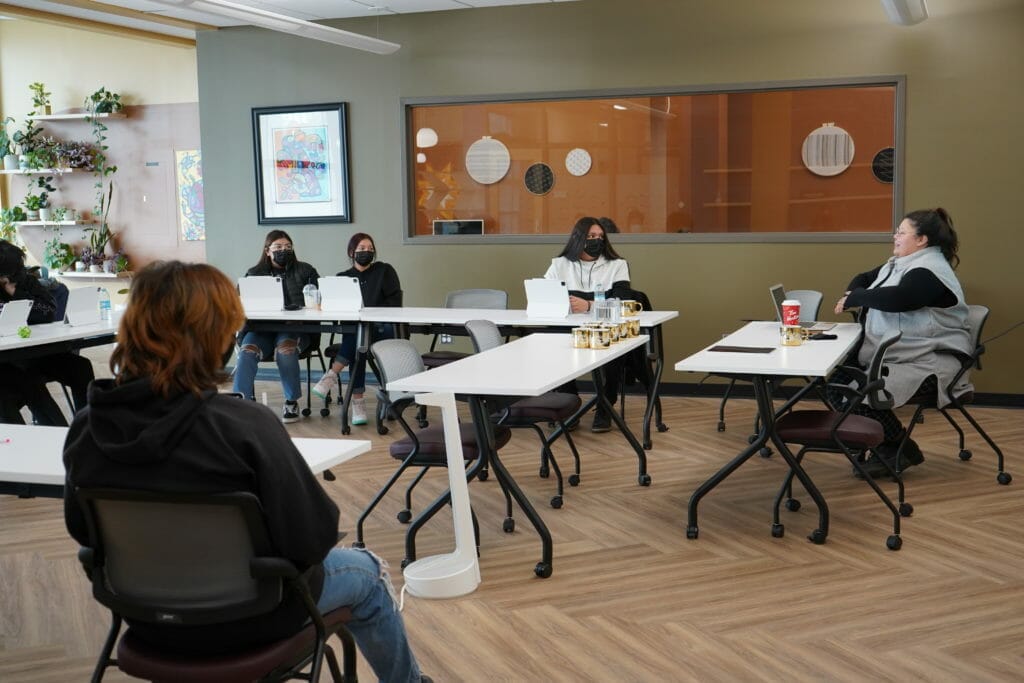 Gimli Getaway
07/03/2022 – 09/03/2022
The Health Transformation team gathered in Gimli alongside Community Health Transformation Liaisons and Regional Navigators for Health Transformation's Annual Evaluation and Training Session.
Read more here: Gimli Getaway (PDF)